Armour #4 -
Shield of Faith

 Shield - an armor usually carried on the arm as a defense and protection against the enemy's swords, darts, arrows, etc.

What is faith?
Hebrews 11:1 "Now faith is the substance of things hoped for, the evidence of things not seen."

Romans 8:24-25 "For we are saved by hope: but hope that is seen is not hope: for what a man seeth, why doth he yet hope for? But if we hope for that we see not, then do we with patience wait for it."

John 20:25 "The other disciples therefore said unto him, We have seen the Lord. But he said unto them, Except I shall see in his hands the print of the nails, and put my finger into the print of the nails, and thrust my hand into his side, I will not believe."

Ephesians 2:8 "By grace are ye saved through faith"

James 2:17 "...faith, if it hath not works, is dead"

1 John 2:3 "And hereby we do know that we know him, if we keep his commandments."
Armour #5 -
Helmet of Salvation

Helmet - a part of the armor that protects the warrior's head from the attacks of the enemy that could possibly injure the head
Salvation as illustrated in the earthly sanctuary: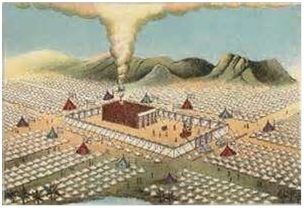 Courtyard = justification (confession, repentance) -
Romans 3:28 "Therefore we conclude that a man is justified by faith without the deeds of the law."

Holy Place = sanctification (continued conversion process, purification process ongoing)
daily purification, dying to self (1 Corinthians 15:31 "...I die daily")

Most Holy Place = glorification (final deliverance, in heaven)

Colossians 1:13-14 "Who hath delivered us from the power of darkness , and hath translated us into the kingdom of his dear Son: In whom we have redemption through his blood, even the forgiveness of sins."

2 Corinthians 1:10 "Who delivered us from so great a death (justification), and doth deliver (sanctification): in whom we trust that he will yet deliver us; (glorification) " emphasis supplied
Armour #6 -
Sword of the Spirit

Sword - is the warrior's main way of attack. It can be two-edged sword that can hit the enemy on both sides. The pointed end of the sword can pierce through anything even a heavy metal.
What is the Sword of the Spirit:
Ephesians 6:17 "...the sword of the Spirit, which is the word of God."
What is the purpose of the Word of God?
Psalms 119:105 "Thy word is a  lamp unto my feet, and a light unto my path."
The relationship of Sword to the Word of God:
Hebrews 4:12 "For the word of God is quick, and powerful, and sharper than any twoedged sword, piercing even to the dividing asunder of soul and spirit, and of the joints and marrow, and is a discerner of the thoughts and intents of the heart."
Armour #7 - Watching thereunto with all Perseverance and Supplication for all saints.

Matthew 26:41 "Watch and pray, that ye enter not into temptation..."
Mark 13:33 "Take ye heed, watch and pray..."
Luke 21:36 "Watch therefore, and pray always..."
1 Timothy 6:12 "Fight the good fight of faith, lay hold on eternal life, whereunto thou art also called, and hast professed a good profession before many witnesses."
Matthew 24:13 "But he that shall endure unto the end, the same shall be saved.
1 Peter 1:7 "That the trial of your faith, being much more precious than of gold that perisheth, though it be tried with fire, might found unto praise and honour and glory at the appearing of Jesus Christ."
Romans 8:18 "For I reckon that the sufferings of this present time are not worthy to be compared with the glory which shall be revealed in us."
Ephesians 6:18 "Praying always with all prayer and supplication in the Spirit, and watching thereunto with all perseverance and supplication for all saints."