1 John 4:8, "...God is love."
Revelation 12:9, "And the great dragon was cast out, that old serpent, called the Devil, and Satan, which deceiveth the whole world: he was cast out into the earth, and his angels were cast out with him."
The promise that was first given to our first parents:
Genesis 3:15  "I will put enmity between thee and the woman, and between thy seed and her seed; it shall bruise thy head, and thou shalt bruise his heel".
Redemption through Jesus Christ:
Romans 3:24, "...redemption that is in Christ Jesus:"
1 Corinthians 1:30, "But of him are ye in Christ Jesus, who of God is made unto us wisdom, and righteousness, and sanctification, and redemption:"
Leviticus 11:45, "For I am the LORD that bringeth you up out of the land of Egypt, to be your God: ye shall therefore be holy, for I am holy."
Exodus 20:8, "Remember the sabbath day, to keep it holy."
Galatians 6:14,  "But God forbid that I should glory, save in the cross of our Lord Jesus Christ, by whom the world is crucified unto me, and I unto the world."
Different names for the Heavenly Sanctuary:
Solomon called it "Thy dwelling-place" 2 Chronicles 6:39
David called it "A palace" Psalms 48:3, "His Holy Temple", Psalms 11:4; "Place of His habitation" Psalms 33:14
John called it "The temple of God" Revelation 11:19
Isaiah called it "Habitation of Thy holiness" Isaiah 63:15
Paul called it "True Tabernacle which the Lord pitched." Heb 8:2; "The sanctuary" Heb 8:2; "Holiest of all" Heb 9:8
Jesus called it "My Father's house." John 14:2
Jeremiah called it "His holy habitation" Jeremiah 25:30
Different names for the Earthly Sanctuary:
Paul called it "A worldly sanctuary" Heb 9:1; "The first tabernacle" Heb 9:8; "A figure for the time then present." Heb 9:9; "Pattern of things in the heavens." Heb 9:23; "Not the very image of the things" Heb 10:1; "Holy places made with hands" Heb 9:24; "Figures of the true" Heb 9:24; "The temple," 1 Cor 9:13
Temple can be our "Human Body":
John 2:19, 21, "Jesus answered and said unto them, Destroy this temple,  and in three days I will raise it up...But he spake of the temple of his body."
1 Corinthians 6:19, "Know ye not that your body is the temple of the Holy Ghost?"
1 Corinthians 3:17, "If any man defile the temple of God, him shall God destroy; for the temple of God is holy, which temple ye are."
Genesis 1:29, "And God said, Behold, I have given you every herb bearing seed, which is upon the face of all the earth, and every tree, in the which is the fruit of a tree yielding seed; to you it shall be for meat."
2 Corinthians 6:17, "Come out from among them, and be ye separate, saith the Lord, and touch not the unclean thing; and I will receive you."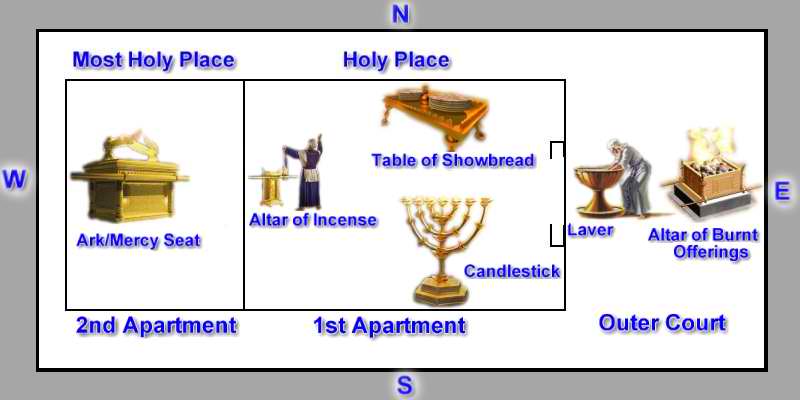 Top View of the Sanctuary
Exodus 25:8,  "Let them make Me a sanctuary; that I may dwell among them;"
THE ENTRANCE:
Exodus 36:37, "And he made an hanging for the tabernacle door of blue and purple, and scarlet, and fine twined linen, of needlework." 
Revelation 5:11, "And I beheld, and I heard the voice of many angels round about the throne and the beasts and the elders: and the number of them was ten thousand times ten thousand, and thousands of thousands."
Revelation 4:2-3, "And immediately I was in the spirit; and, behold, a throne was set in heaven, and one sat on the throne. And he that sat was to look upon like a jasper and a sardine stone: and there was a rainbow round about the throne, in sight like unto an emerald."
THE ROOF: divided into two types of materials (cloths and skin)
Cloth - inner roof (Ceiling)

Skin - outer roof

Blue, purple, scarlet and fine twined linen with embroidered cherubim. Exodus 26:1, "Moreover thou shalt make the tabernacle with ten curtains of fine twined linen, and blue, and purple, and scarlet: with cherubims of cunning work shalt thou make them."

 

Exodus  26:14, "And thou shalt make a covering for the tent of rams' skins dyed red, and a covering above of badgers' skins."
Ezekiel 1:28, "As the appearance of the bow that is in the cloud in the day of rain, so was the appearance of the brightness round about. This was the appearance of the likeness of the glory of the LORD. And when I saw it, I fell upon my face, and I heard a voice of one that spake."
| | |
| --- | --- |
| Earthly Sanctuary | Heavenly Sanctuary |
| Entrance - the curtains were embroidered with cherubims Exodus 26:1 | There are thousands and thousands of angels in the entranceof the heavenly sanctuary Revelation 5:1 |
|   |   |
Exodus  40:38, "For the cloud of the LORD was upon the tabernacle by day, and fire was on it by night, in the sight of all the house of Israel, throughout all their journeys."
Pillar of Cloud by day

Pillar of Fire by night

Psalms 91:1, "He that dwelleth in the secret place of the most High shall abide under the shadow of the Almighty."

Philippians 4:7, "And the peace of God, which passeth all understanding, shall keep your hearts and minds through Christ Jesus."

Psalms 119:105, "Thy word is a lamp unto my feet, and a light unto my path."

Psalms 89:15, "Blessed is the people that know the joyful sound: they shall walk, O LORD, in the light of thy countenance."
Romans 8:35, 38-39, "Who shall separate us from the love of Christ? shall tribulation, or distress, or persecution, or famine, or nakedness, or peril, or sword?  For I am persuaded, that neither death, nor life, nor angels, nor principalities, nor powers, nor things present, nor things to come,  Nor height, nor depth, nor any other creature, shall be able to separate us from the love of God, which is in Christ Jesus our Lord." 
Hebrews 12:2, "Looking unto Jesus the author and finisher of our faith;" 
Matthew 22:1-14 - Parable of the marriage of the king's son
Matthew 25:30, "And cast ye the unprofitable servant into outer darkness..."
Matthew 22:14, "...For many are called, but few are chosen."
Our duty:
Revelation 14:9-11 - message of the 3rd angel
Revelation 18:4 - call to come out of Babylon (confusion, apostasy, spiritual darkness)
Matthew 22:13, "Then said the king to the servants, Bind him hand and foot, and take him away, and cast him into outer darkness; there shall be weeping and gnashing of teeth."
1 John 3:4, "...for sin is the transgression of the law."
Romans 6:23, "For the wages of sin is death..."
| | | |
| --- | --- | --- |
|  Sanctuary service | Parable of the marriage of the king's son (Matthew 14:1-14) | Two phases of the work of Christ in the heavenly sanctuary |
| First apartment - daily services | Inviting guests to the marriage supper | First phase - offering salvation free to all |
| Second apartment - once a year (day of atonement) | Examining the guests | Second phase - investigating |
Revelation 22:11, "He that is unjust, let him be unjust still: and he which is filthy, let him be filthy still: and he that is righteous, let him be righteous still: and he that is holy, let him be holy still."